Plant Tycoon
1.0
Search for the 4 Magic Plants while you breed and grow exotic plants in this real-time gardening sim! Pdarcade's "Best Sim of 2003"!
Last update
20 Mar. 2006
Licence
Free to try |

$6.99
OS Support
Mobile
Downloads
Total: 2,929 | Last week: 0
Ranking
#34 in Hobbies
Publisher
Ldw Software, Llc
Plant Tycoon Publisher's Description
Now with support for all color Palm devices with OS 3.5 and later!PDArcade's "Best Sim of 2003" Award Winner!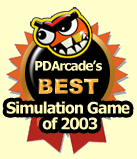 With
Plant Tycoon
you will have a chance to test your gardening and business skills at the same time! You start with a couple of dollars, a handful of seeds, some soil and water. Grow plants, organize and harvest seeds. Monitor the plants health, age and maturity and be careful of dehydration and infestations. Sell some of your creations to fund your research and to invest in supplies and improvements: better soil, experimental chemicals or a fountain for your nursery!
The object of this game is to discover the 4 MAGIC PLANTS. Each magic plant will give you permanent enhancements and abilities that will bring fortune and fame to your Nursery. You will discover these magic plants by cross-breeding plants and solving the genetic riddle.
Do you have a Green Thumb?
FEATURES:
REAL TIME GAMING: the game goes on whether you are playing or not---or even while your Palm is off!
Always new surprises waiting for you in your lab when you turn on your palm!
A new original Tycoon Game for Palm OS
Strategy - Adventure - Puzzle all combined in one unique game!
Sampled sounds optimized for Palm OS 5.0
Multiple approaches to solving the game are possible
Different levels of difficulty
3 levels of game speed
Discover from hundreds of possible breeds
Cross-pollinate plants and develop beautiful exotic new species
Feed, water and experiment with plants in your lab
If you enjoyed Plant Tycoon, why not try some of our unique games:
Fish Tycoon
Breed and care for exotic fish in a true real-time aquarium
while you try to discover the 7 Magic Fish and save "Isola"
Little Palm Pet
The virtual pet for your palm device:
the pet learns from your actions and lives in true real-time!
Look for Similar Items by Category
Feedback